Roundhouse Overnight Stay
23 July – 7 August
Enjoy a magical 1 night overnight stay…

From 23 July to 7 August in the comfort of your own roundhouse at Celtic Harmony Camp, the Prehistory settlement located in a beautiful woodland setting in the Hertfordshire countryside.
Each roundhouse is equipped with king size bed and single beds (up to 2 adults and 3 children) all linen and towels provided! Enjoy a tasty BBQ dinner with vegan and vegetarian option and explore the woods at night on a Bat Walk before roasting marshmallows and storytelling around the fire.
Wake up to freshly baked croissants for your continental breakfast. Organise a special family and friends gathering and enjoy the Camp to yourselves when you book all 6 roundhouses!.
Roundhouse Overnight Stay
Book your tickets: Select an arrival date
Arrival 5pm and departure 10am. Please add a family day out to your stay if you would like to join us for a day in Prehistory packed with activities and demos
No Quibble Covid Refund Guarantee – if there are further Government restrictions when you are due to visit we will refund your tickets.
There are maximum 6 family roundhouses available per night so bring your friends for a special evening together.
Tickets are non-refundable for your use only and are not available for resale.
Simply select an arrival date and we'll send your booking confirmation by email.
Batwalk & Marshmallows
Take a walk in the woods and enjoy marshmallows by the camp fire.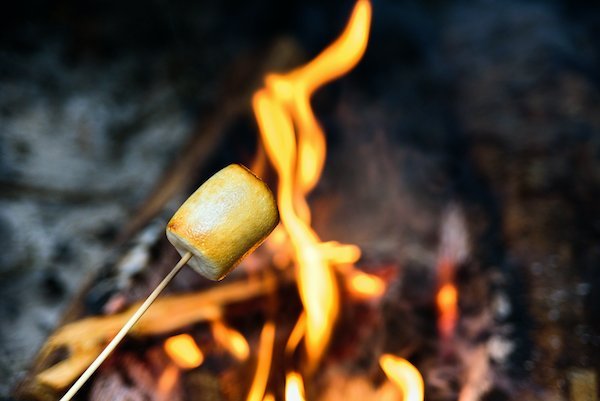 Barbecue Dinner
Enjoy a delicous barbecue dinner including vegan and vegetarian options.
Sleep Tight
Sleep in the comfort of your own roundhouse with double of single bed (max 2 adults and 3 children) including all linen and towels
Breakfast is served
Wake up to a continental breakfast before you start your day
Spend the day with us
Why not add a day out and spend the whole day enjoying a range of activities with us
'We had such a great time on our family day a few weeks ago that we returned on Saturday for an overnight stay. On each visit we've been so impressed by the knowledge, friendliness & relaxed attitude of the staff team. Nestled in wooded countryside, the location offers wonderful outdoor freedom, fresh air & plenty of space from other families even when grouped around the activities. Scrumptious food, marshmallows, fire, bat walk & heaps of fascinating things to learn – it ticked all our boxes. We can't recommend it more highly for anyone looking for interesting, fun, healthy, socially distant things to do this summer & beyond.' Hannah Fenton 4 July 2020.
Subscribe for your Prehistory Resources!