Enjoy a magical family adventure sleeping overnight in your own roundhouse including:
BBQ dinner with vegan and vegetarian option
Bat Walk around the woods and marshmallows on the fire
Sleep in the comfort of your own roundhouse with double and single beds (max 2 adults and 3 children) including all linen and towels
Continental breakfast before 9am
We use an Ozone sanitiser for deep cleaning of each roundhouse between guest stays.
'We had such a great time on our family day a few weeks ago that we returned on Saturday for an overnight stay. On each visit we've been so impressed by the knowledge, friendliness & relaxed attitude of the staff team. Nestled in wooded countryside, the location offers wonderful outdoor freedom, fresh air & plenty of space from other families even when grouped around the activities. Scrumptious food, marshmallows, fire, bat walk & heaps of fascinating things to learn – it ticked all our boxes. We can't recommend it more highly for anyone looking for interesting, fun, healthy, socially distant things to do this summer & beyond.' Hannah Fenton 4 July 2020.
Arrival 5pm and departure 10am, you can make your stay extra special and book a family day out the day before or the day after your overnight experience.
Limited spaces – book your overnight stay today!
Read our Overnight Stay Brochure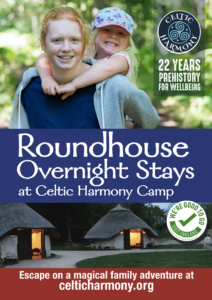 Book your tickets: Select an arrival date
You can only book one roundhouse for your family so that the rule of 6 applies.
Arrival 5pm and departure 10am. Please add a family day out to your stay if you would like to join us for a day in Prehistory packed with activities and demos
No Quibble Covid Refund Guarantee – if there are further Government restrictions when you are due to visit we will refund your tickets.
The Overnight experience is £250 including food, roundhouse accommodation and evening activities.
There are maximum 5 family roundhouses available per night so bring your friends for a special evening together.
Tickets are non-refundable for your use only and are not available for resale.
Simply select an arrival date and we'll send your booking confirmation by email.